Why do you need a mobile website for business?
Since the iPhone was first introduced in 2007, the amount of smartphone users has continued to grow. With so many people now using it to access the web (for products and services), this presents a great opportunity for businesses with mobile-friendly websites.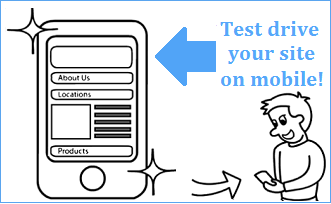 All standard websites can be accessed from smartphones. But the problem is they are not mainly designed or built for smartphone screens. 
Mobile-unfriendly sites are hard to read and navigate on smartphones. Key information is not prominently shown. Sites take too long to load. They also look messed up.
Besides, mobile users constantly zoom and slide their screen while browsing. This creates a frustrating user experience, as mobile users of today are rarely just surfing the web. They are looking to access specific information about your business very quickly. Otherwise they go elsewhere and this means you lose out to your competition.
Check out your website on a smartphone (e.g. iphone) and see what it looks like. If you are getting all or any one of the above mentioned problems, then your site is not mobile-friendly.
Don't let your competition leave you behind. The mobile world is huge and getting bigger each day. You should be embracing the opportunity it provides and acquiring your piece of its growth.

By having mobile-optimised version of your website…
your site will be ideal for profit pulling

QR Code

mobile marketing campaigns
it will get you highly targeted web leads and keen buyers via smartphones
it eliminates the need for your prospects to zoom or slide their phone screens
you will be able to acquire mobilised prospects ahead of your competition
mobile customers can load your website quickly and clearly view your details
your website pages get easier for mobilised visitors to access and navigate
will increase the average amount of time that mobile users spend on your site
customers are easily able to contact your business with 'Tap To Call' feature
your business can capture a lot of web traffic specifically coming from mobile
it will help you really achieve high rankings in Google mobile search results
your site will look very professional to captivate and grab mobilised customers

Web stats – can your business afford to ignore them?
There are now over 5 billion mobile phone users around the world (CBS news)
6 in 10 visitors to a mobile-unfriendly website will leave to go elsewhere (Google)
There are over 1 billion smartphone users globally (Strategy Analytics)
62% of the entire adult population in the UK alone have a smartphone (Ofcom)
80% of people who use the internet are smartphone owners (GlobalWebIndex)
61% of local searches on a mobile phone leads to a phone call (Google)
91% of all smartphone users have their phone with them 24/7 (Morgan Stanley)
74% of smartphone users do shopping with their phones, 79%  end up as buyers
70% of all mobile searches result in action within an hour (Mobile Marketer)
This certainly provides you with a great opportunity!
QR Code